In Praise of Fathers and Daughters
January 23, 2016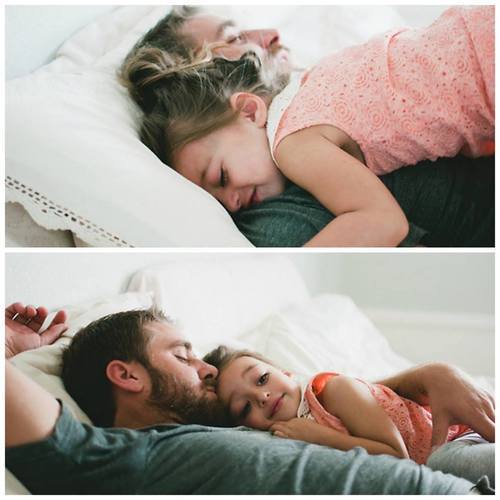 "His daughters anchored his life and gave him the freedom to live it. Without them, always at the center of his being, his life would have been little more than a vapor." (Epitaph of actor James Rebhorn, 2014)
The person who knows me best – who knows everything about me – is my daughter.
She's 15 years old.
She knows I will always tell her the truth, and won't lie to her about anything.
And I don't.
Like a good linguist, I tell her there are no bad words, only bad contexts. So she and her friends do a lot of swearing around me.
I'm a safe haven for them.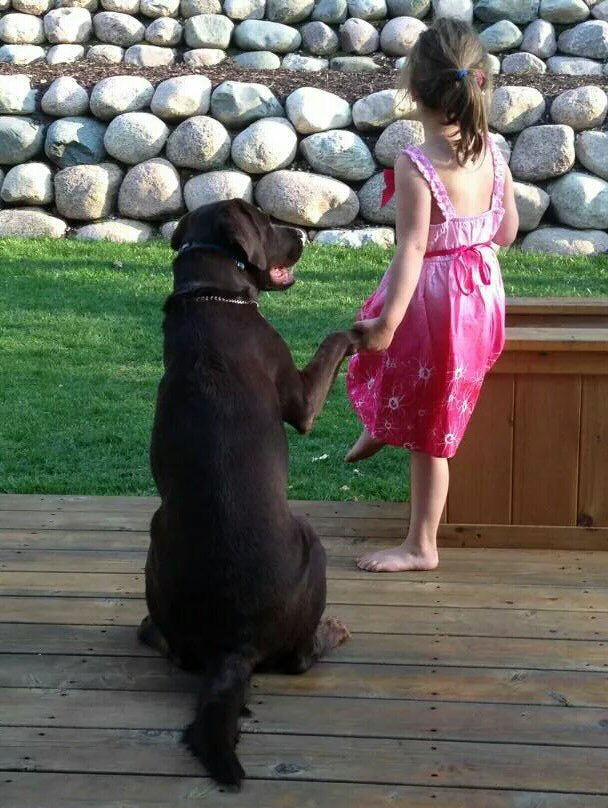 My nights are often interrupted by their group Skype calls where they are doing homework. They Skype me into their group chats to tell me funny stories or to share the latest school gossip.
Often as I drive them around late at night to drop them home after movies, they laugh and tease each about the crushes, the secrets, the currency of the earliest cusp of high school, without a care in the world that I can hear them.
Because we keep each others' secrets.
A different galaxy altogether
I grew up in a world that must – honestly – have been in a different galaxy altogether. Children were to be seen, not heard, and even in families with close emotional ties, children were rarely, if ever, privy to the realities of the adult world. Lying to a child was not only considered normal, it was expected.
Psychological research has long documented that the strongest bonds of influence in families are mother-son, and father- daughter. What's curious is how these have become distorted by the cultural lenses of our time.
Historians have long known that all US presidents were closest to their mothers – from the matriarchal Roosevelts to the imperious Rose Kennedy to Richard Nixon's hanging on his mother's every word, with Barbara Bush running the whole family.
Bill Clinton's father died before he was even born. Barack Obama saw his father exactly once.
Despite this imbalance, boys still occupied a position of special privilege with both parents. Girls grew up mostly to be housewives, and the few occupational options available to girls even as late as the early 1980s – teacher and nurse, principally – were not prestigious or respected.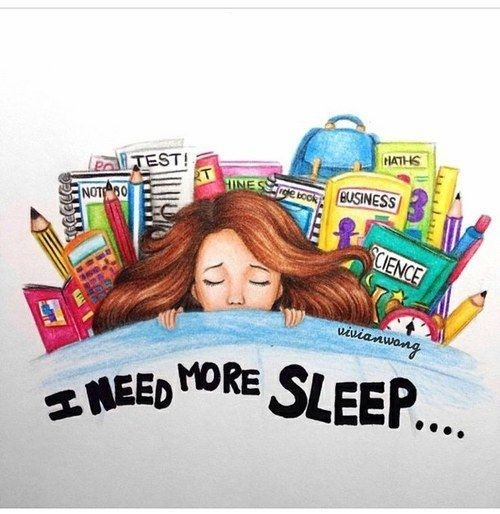 Television in the US duly portrayed a galaxy of leading boys and young men, as did popular music and every form of entertainment. It wasn't until the 1990s that girls even began to be treated as sentient beings.
It turns out that this was the first trickle of a tidal wave of change.
The boys of my generation that grew up into men utterly revolted against the historical portrayal of girls as passive or weak, with painfully limited professional choices, or personal freedoms. It was our generation that was to reverse the opportunities available to girls, including options in education (especially the sciences), professions, freedoms and choices. This is a revolution in the making, to be sure, and hardly yet complete. And we are not fighting it totally alone. Yet it's underway.
Cultural reflection
It's especially poignant that this cultural revolution came to be expressed on TV and the movies by exploding onto the scene through the unending efforts of storytellers – the writers – who now control not only the story lines and characters, but every visual aspect of what appears on the air.
And something truly remarkable has shone through the work of this entire new generation of writers, mostly male, and mostly fathers, and mostly my age.
This generation of writers is placing daughters at the very centers of their characters' lives, reversing a century of boy-centered cultural dominance.
This has created powerful tailwinds supporting the crucial notion that girls actually matter.
In The Godfather series of mobster crime movies, widely admired for its authenticity, girls were viewed with the scowling disapproval of PRC bureaucrats. They were ignored, brushed out of scenes, dragged away and ignored by their fathers.
In the modern mobster drama The Sopranos, widely cited as the most popular TV show in the modern era, Tony's daughter Meadow occupies the center of his moral life. The son A.J., the presumed male heir to the business, is depicted as a washed-out failure, while Meadow is cast as the reason for his very existence.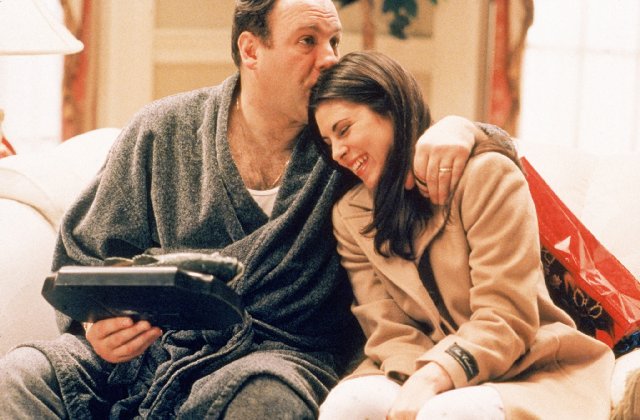 This turnaround in mobster culture, of all possible worlds, had a huge impact. But it was the first wave of the new fathers choosing to portray daughters as central to their fathers' lives, and as young adults with promising and responsible futures (Meadow eventually attends Columbia University, and proceeds with a legal career, while A.J. never attends college). And this made for poignant and compelling scenes.
In the later episode "Mayhem," where Tony is in a coma, it's Meadow's voice, calling "daddy" as a young child, that brings him back to life.
And her voice only.
The same revolution was unfolding in the TV world of espionage and psychological thrillers.
Homeland is an especially intense, fast-paced drama featuring CIA case officers, assassins, a former Marine POW and enough story twists to confuse even the most patient viewer.
At the center of the first two seasons was the character Nicholas Brody, the former marine POW, who is suspected of having betrayed his country, does in fact betray his wife, lies to every adult in authority, including every CIA employee and official, cons and hides almost every aspect of his true life from everybody.
Except his from his daughter, Dana.
There is something about Brody at his very core that makes it impossible for him to lie to his daughter.
There is a dawning realization over the course of the show that Brody never lies to her, and she never lies to him. Their commitment to being honest with each other no matter what eventually becomes a thread that can help guide the viewer through the unfolding mayhem.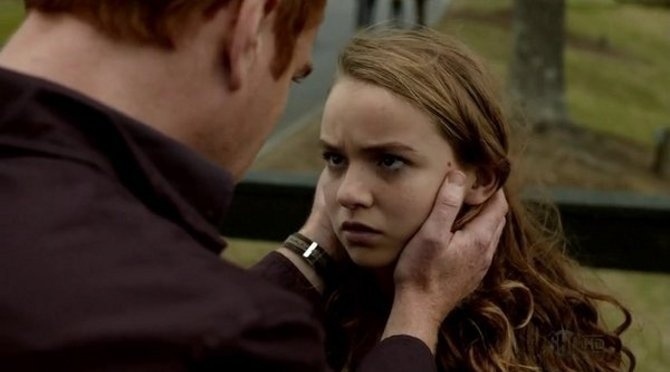 Meanwhile, the son is almost totally invisible in a drama about a US Marine Corp. officer.
In the closing arc of his story, when his CIA case officer (and lover) Carrie Matheson must bring him back to Washington after he has fled, she realizes nothing in his life – including her, or the CIA or even his allegiance to his country or the Marine Corps – has the same power over him as his daughter. In an especially emotionally wrenching scene, she tricks the daughter and father into meeting solely to use the daughter to do what she wants Brody to do.
And of course, Brody does exactly what she wants.
Bonding and Reflection
My daughter and I bonded first over homework and school projects – we've studied together nearly every day since she was in fourth grade – and later over movies, TV shows and musical theatre.
I introduced her to The Phantom of the Opera, which I first saw with the original cast at the Kennedy Center in the 1980s, and it's inspired her to learn the entire repertoire of songs and commit herself to singing classical opera.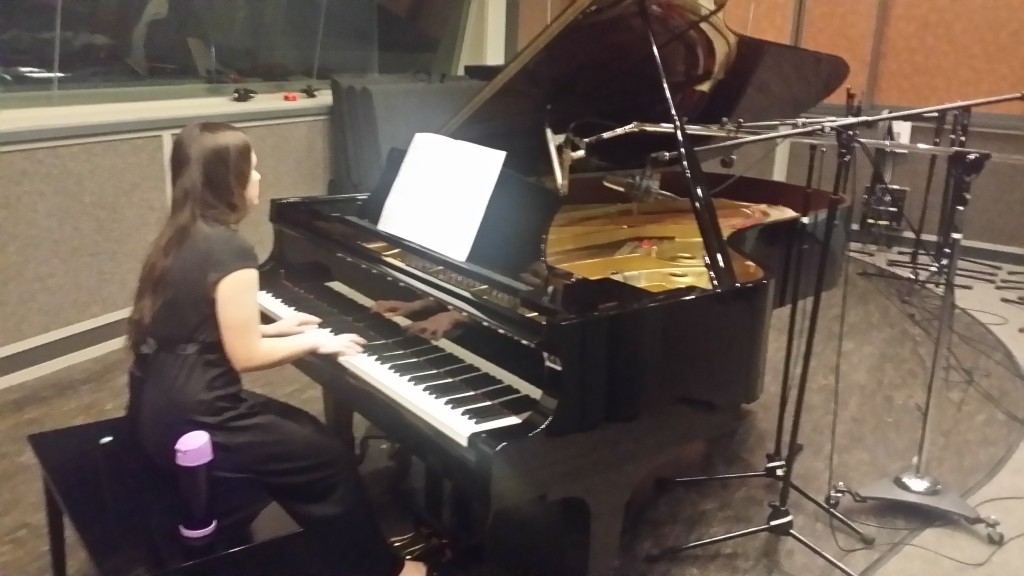 Today she's under the training of a professional opera singer and she's the top-rated first soprano in all high schools in the Commonwealth of Virginia. And she's only a freshman.
This week she also won 1st prize in the Langley High School Science Fair in the biology category, based on a project she designed herself, competing against 150 sophomores, juniors and seniors. She advances to the regional competition in March.
Last Christmas she stayed up all night Christmas Eve to customize a gift card for me that listed all our favorite movies and quotes, even color coding the quotes by movie.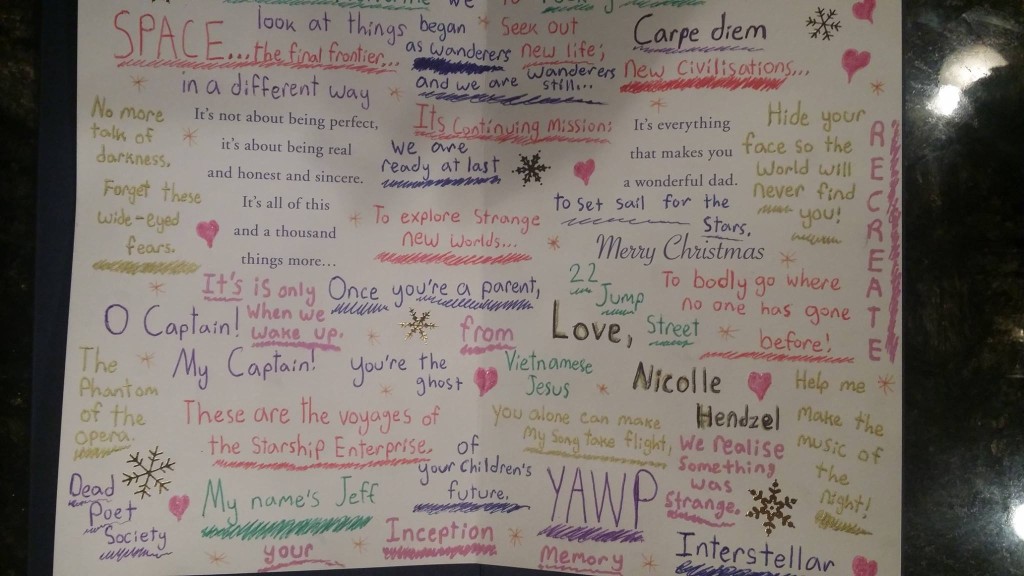 What she often asks me is whether I think she's smart enough – if she has enough of me in her – to do whatever she wants – make it into Georgetown or Julliard. I always say she's clearly more talented than I am in more ways than I can possibly count. She rolls her eyes and mumbles about IQ, and takes online IQ tests to see the results.
She wants to know more about my natural father – an underworld criminal genius whom I've never met and is almost certainly dead – because she knows she's inherited parts of him.
But there is that doubt, as a child in an adult world, that she's worried there's something or somebody else around the corner that will surprise her, undo her, and derail her plans.
I worry less today than I used to about how much being a girl would hold her back. This new world where girls are becoming more empowered is encouraging, and desperately overdue, but we are not yet where we as a society need to be to assure they are treated with the same respect, challenged with the same expectations or driven by the same degree of encouragement that we give our boys.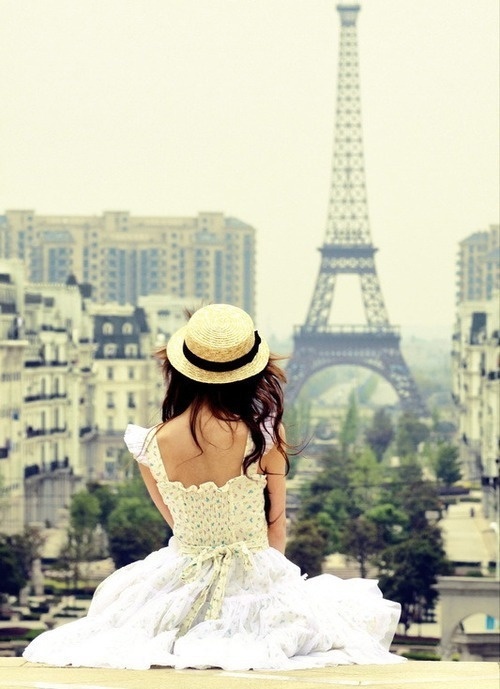 7 Responses to "In Praise of Fathers and Daughters"